Mrs Kari Jinkens had the opportunity to take these 13 students today to the NE Oklahoma Quail Forever Youth Mentor Hunt. These are wonderful educational opportunities for her students and man did they have fun! Thank you to all the volunteers today that helped put this on and thank you Mrs. Jinkens for investing in our kids!!!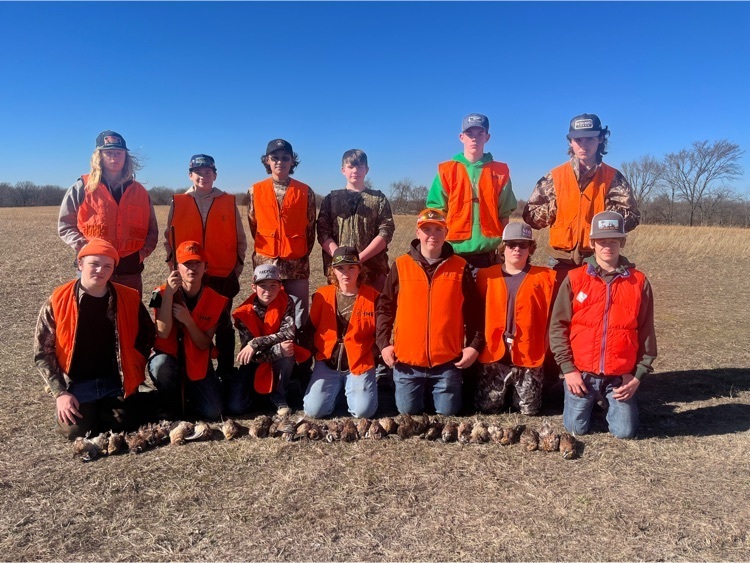 Congratulations to Jaden Perry and Jay Douglas on being named to the 2a Cross Country All Star by class. They are pictured along with their coach Frank Captain.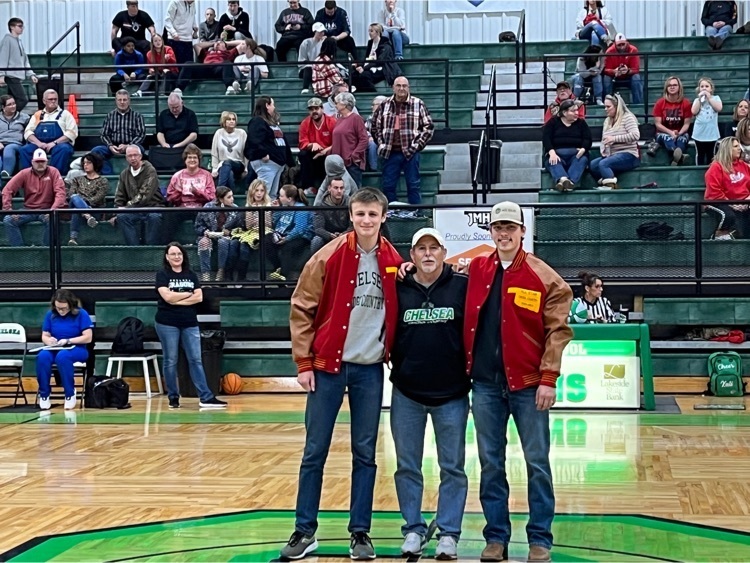 Chelsea Public Schools will be recognizing Martin Luther King Jr. day. On Monday January 16th the will be no school.
Our "Generous" students for the month of December! Great job young men and women!!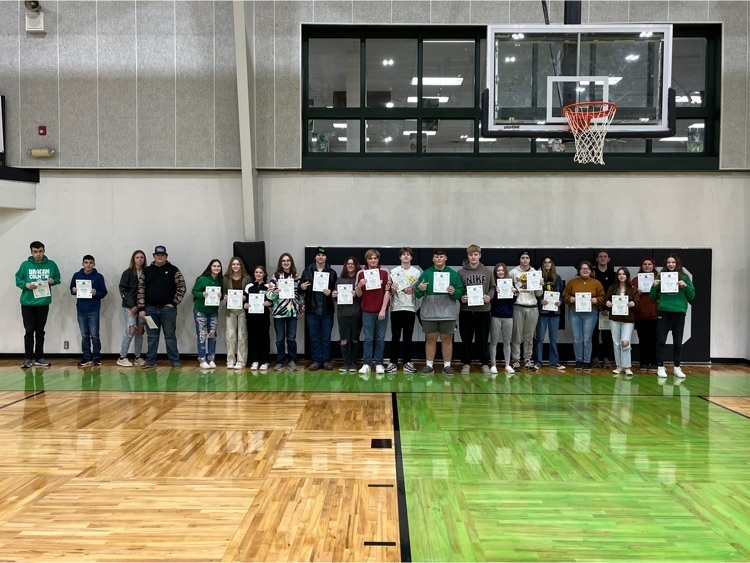 Check out our staff member for the month of December Mr. Haggard!! Great job!!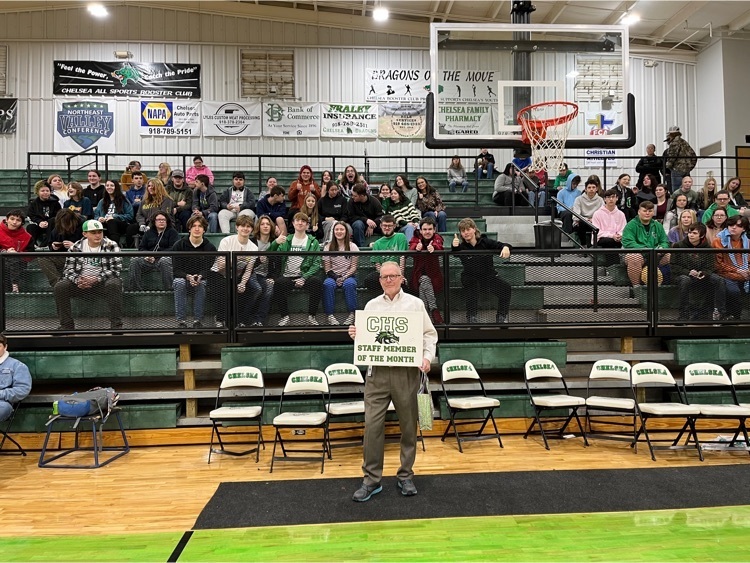 Congrats to the Green Dragons for defeating the Hulbert Riders to claim the 2023 JMH Memorial Consolation Championship!!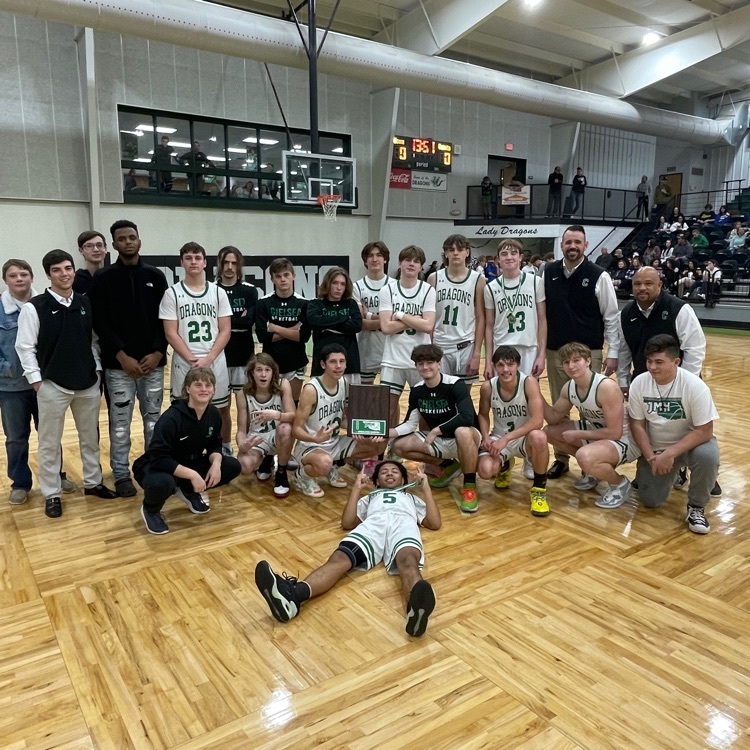 Congratulations to our Lady Dragons!! They defeated Ketchum to claim the 2023 JMH Memorial Tournament Consolation Championship!

CHAMPIONSHIP SATURDAY!! The 2nd Annual John Michael Humler Memorial Basketball Tournament wraps up in grand fashion Saturday, January 7. Action starts at 10:00 AM. Catch our very own Green Dragons as both our Girls and Boys teams compete for the Consolation Championship. Lady Dragons tip-off at 1:00 PM with the boys to follow immediately after. The Championship will feature the Afton Lady Eagles vs the Caney Valley Lady Trojans at 7:00 PM. The boys championship will be decided between the Ketchum Warriors and the Kansas Comets at 8:30. As always, you can catch the live stream on our Chelsea Public Schools YouTube channel!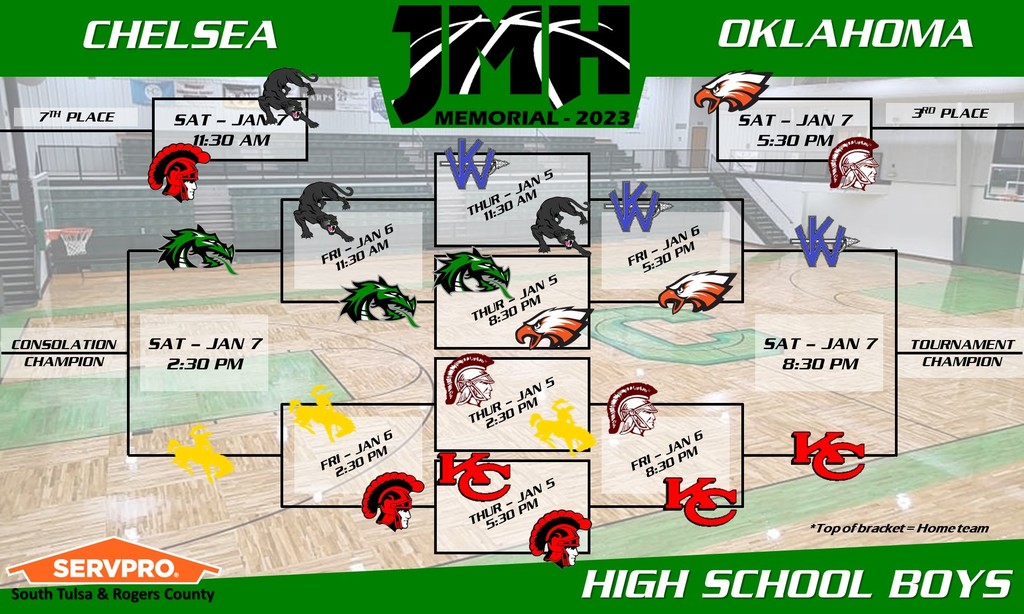 Times and links for Google Meets are listed on the attached document. Many of our CMS teachers are helping with the JMH Tournament happening today and tomorrow. Teachers went over virtual work with students on Wednesday. Students need to check their Google Classrooms for information from teachers. Students who are unable to attend Google Meets for help on any virtual work, may email teachers. Teacher emails are listed on the document as well. To join a Google Meet, click on the time/subject listed by each teacher.
https://docs.google.com/spreadsheets/d/1TTDfXxTNXSUugNtxZD3s7Th9RDaI8Qf4Sx82fC9VqK8/edit?usp=sharing

The Dragon Family is excited to welcome Kevin Gorham as our School Resource Officer! We have partnered with Rogers County Sherriff and look forward to having Kevin on campus.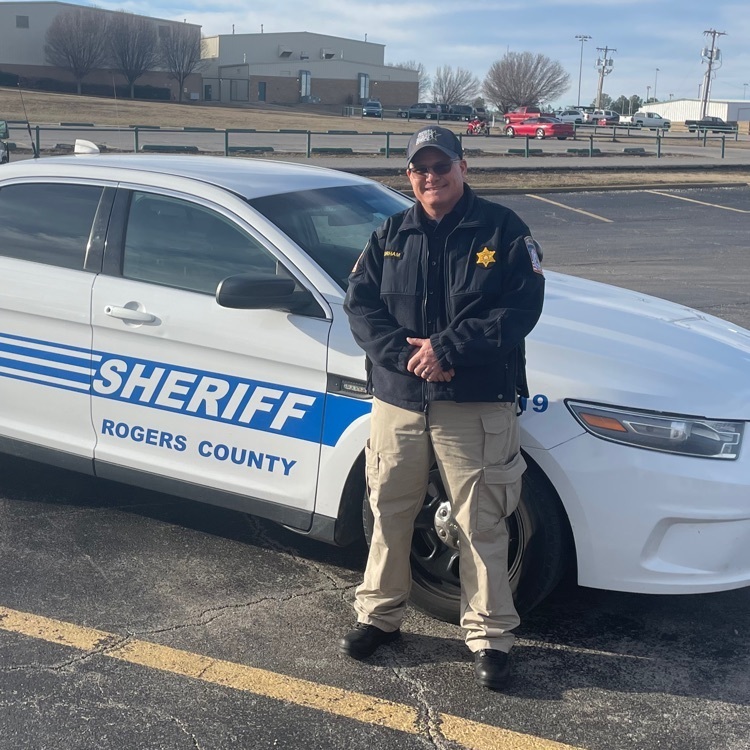 The Chelsea Dragons are excited to host the 2nd Annual John Michael Humler Memorial Basketball Tournament. Action begins Thursday, January 5 and concludes with the Girls Championship game at 7:00 PM and Boys Championship at 8:30 PM on Saturday, January 7. This year we welcome Afton, Caney Valley, Foyil, Hulbert, Kansas, Ketchum, Nowata, and of course your very own Green Dragons. We would like to thank ServePro of South Tulsa and Rogers county for sponsoring our tournament. We look forward to a great weekend of basketball!! See you there!!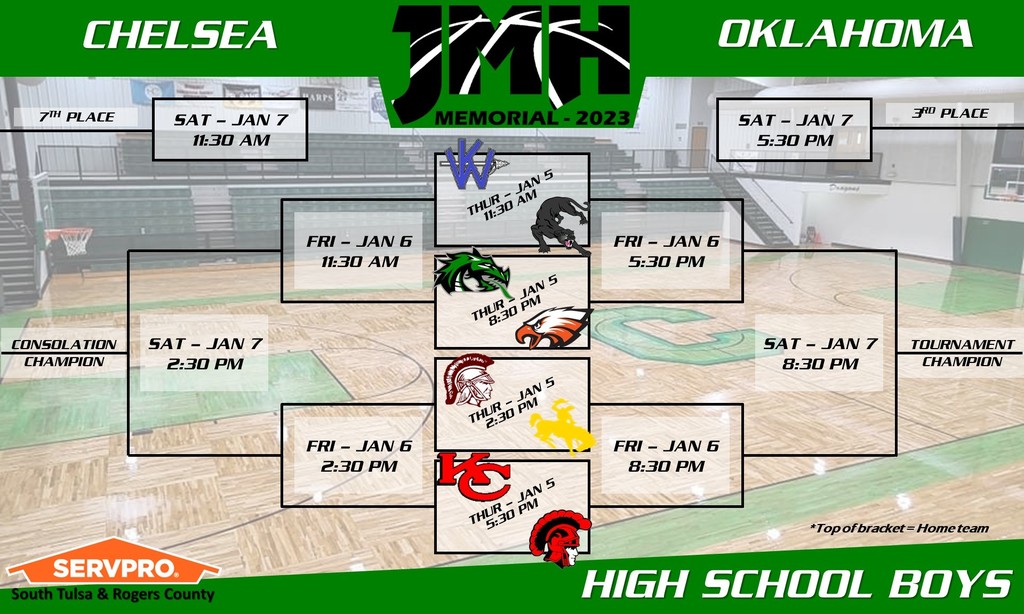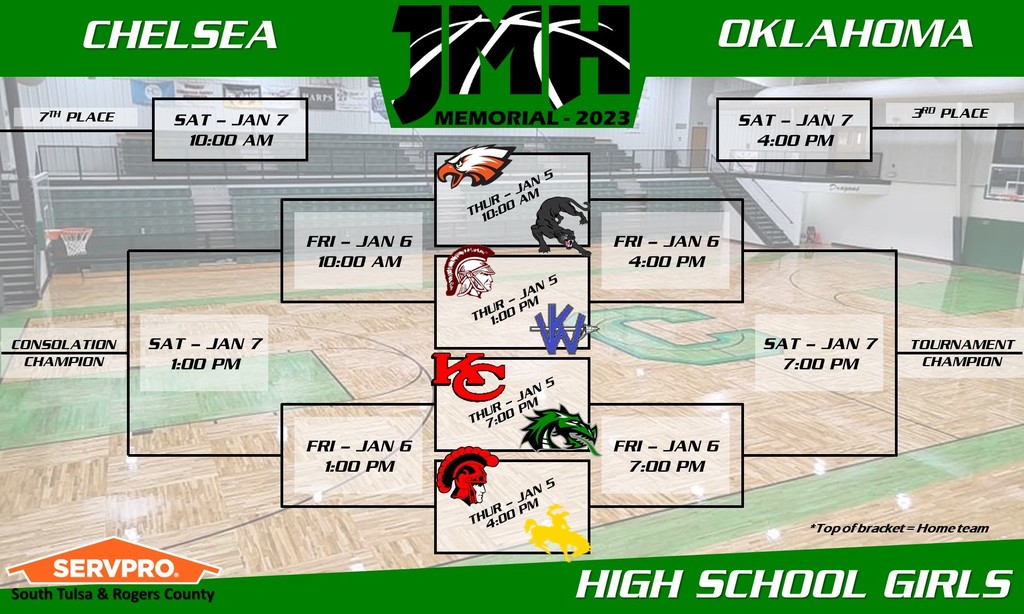 !! BACK TO SCHOOL REMINDER !! We hope everyone had a restful holiday break and is ready to get back to school! Tue, Jan 3 - Professional Day (Staff only) Wed, Jan 4 - Back to School!! (Students return)
5-12th grade Annual Christmas Concert will be held in the HS Gym on Tuesday December 20th starting at 7:00pm.
https://docs.google.com/spreadsheets/d/1IA40EyEyYpM67wmmr8B3PDxQts99jwHEiYM9FYfIeJo/edit?usp=sharing
This is the spreadsheet which contains every teacher's link to a Google Meets Conference at CHS. This will be utilized for all virtual days. Teachers will have scheduled times for their conferences but if you are unable to attend or they have a prior commitment to working our JMH tournament then they should be available during the 1:00-3:00 Conference time. Teachers will also be utilizing Google Classroom to provide assignments during our virtual days. I strongly encourage you to communicate with your student's teacher via email during our virtual days as well. This document will be extremely important when we are virtual January 5th-9th. Thank you, Mr. Tyree
CHS Holiday Penny Wars For two weeks CHS students have been battling in out on holiday penny wars. Today, students representing each class and organizations including Stu-Co, FCCLA, BPA and NHS delivered a check to the Senior Citizens Center here in Chelsea, Oklahoma. Altogether students and staff raised $1, 675.00. Represented in the picture are Chelsea Senior Citizen board members, Angela Dunn, Charlotte Foster, Dale Clark and Darlene Gilliland. Students include Baylee Robards, Mariah Melcher, JR Veysey, Jay Douglas, Rilea Thomison, Isaiah Holt, Ethan Czapansky and Lily Bible. To sweeten the pot CHS Principal Terry Tyree promised to take the winning class to eat pizza. Congratulations to the Sophomore Class for the win. Great job to all our students for embracing the holiday spirit and giving back to the community.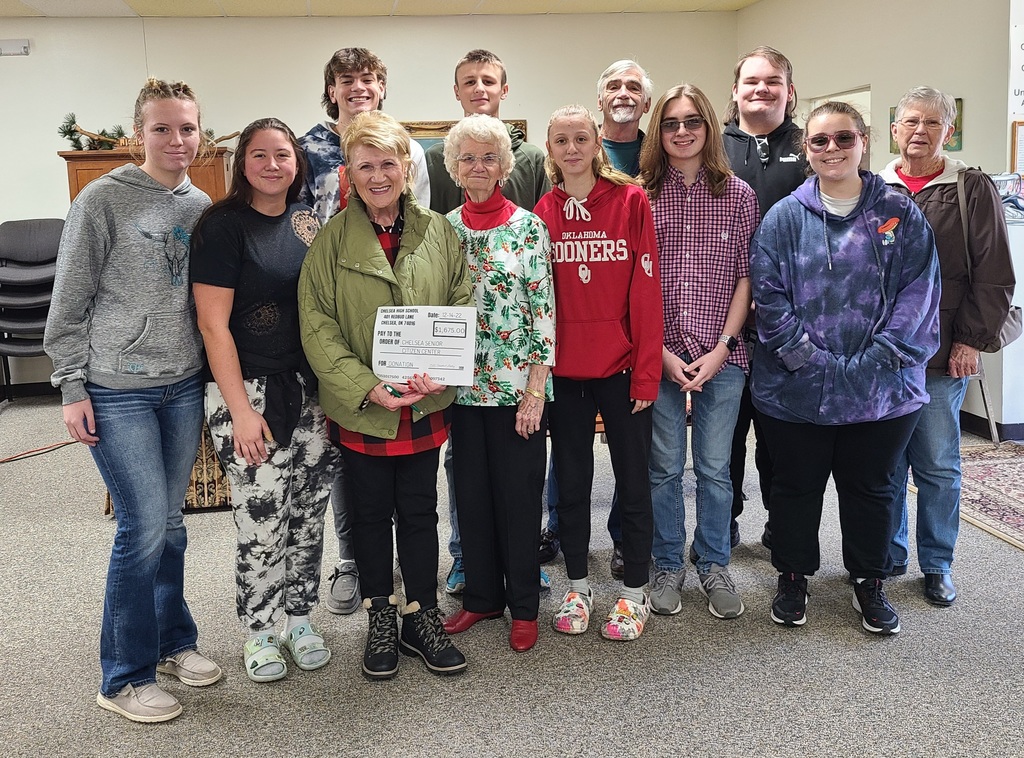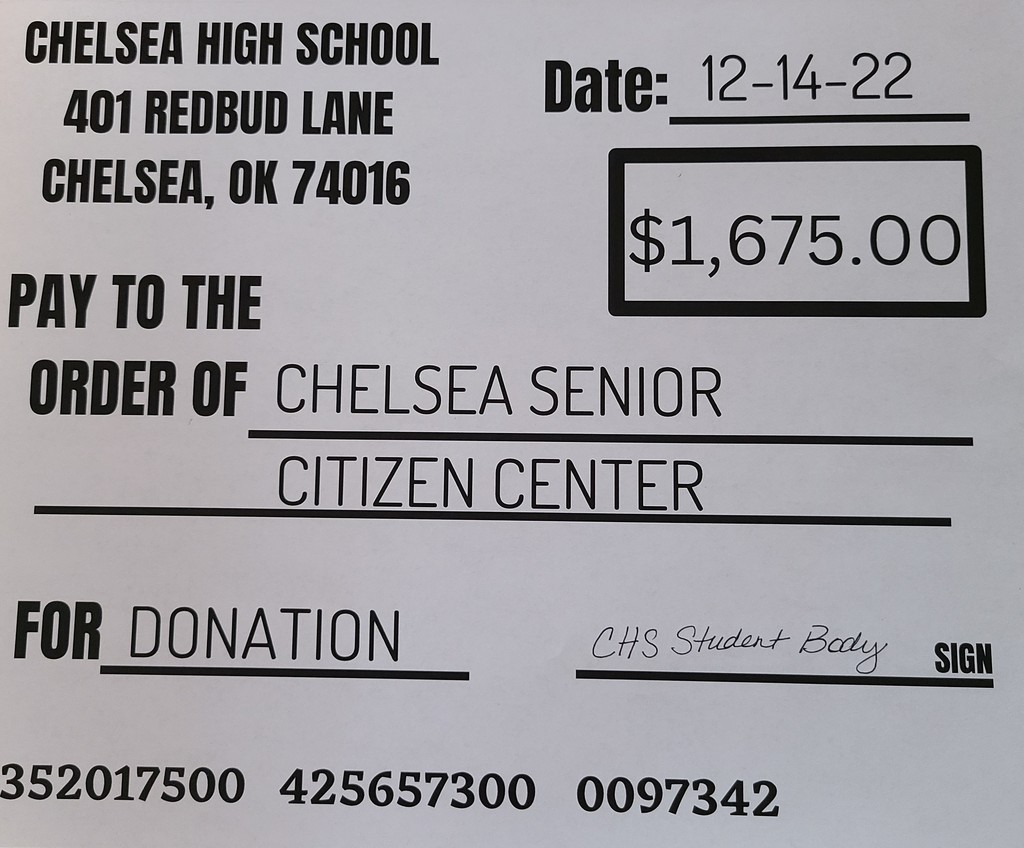 Green Dragon basketball vs Nowata Ironmen! Catch the live stream on our YouTube channel! Check out Chelsea High School vs Nowata High School Mens Varsity Basketball livestreaming now at
https://www.youtube.com/watch?v=6_k6rTj-Wq0
CHS November students of the month! Great job!!